Frankly, the best SEO Course are already offered out there for FREE!  Google who is the main search engine in the world has come up with all the training and guide on how you can rank your website or other marketing material online.
The issue is that many would face however, is the information overloaded.  Due to the massive technology and information many are lost as in how to do SEO for their own website or business online.  So, here let us put them into small bites and pieces so that you can start chewing and digesting the information on SEO search engine optimization, easier, better and more effective.
We will however, try to summarize SEO for you so that you can DIY your own SEO.
Firstly, SEO stands for search engine optimization, which also means making your website or marketing media search engine friendly so that your material would turn up on the first page of search engine results page when customers key in the keywords for your product, services and business.
Easier said then done, right!  Yes!  We took years to understand the concept with regular practices and seeing the results of our works.  Here we share with you the basics and what you need to know to start your own SEO works.
The Basic 3 Elements of SEO
Keywords
Content
Backlinks
Identify the keywords!  How do you do this?
Check what are the keywords that customers key in when looking for your type of business, products and services.  Instead of using Google Adword Keyword Planners which are overloaded with lots of information and some good information.  We suggest the easiest path and yet effective method for you!
Use Google Intent!  Type in your main keyword into your search console and google will show you some of the most commonly googled words to yours.  Example when we googled "google"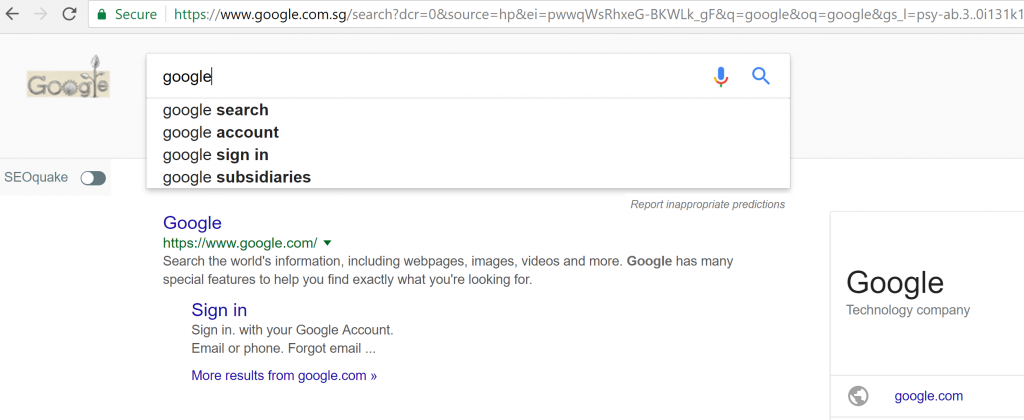 Or check out the "searches related to your keyword that appear at the bottom of your search"
Select a few of the relevant keywords by using this two features from Google!  Google Intent and Google searches related by Google Search.
Use the keywords into your content!
Content
Content used to be King in Google!  Content is still King but in a modern way!  What we meant by that? Firstly, google loves fresh content!  Fresh and relevant content usually gets good ranking, at first.  But, fresh content needs to be recommended by other sites to maintain good ranking.  Let us simplify this in our explanation in Backlinks!
Create consistent and relevant content with your keywords!  Today, many marketers are moving to video content.  The same SEO Principles and works can and should be applied to your video content.
Other than SEO your content, it is vital for you to have good copywriting with the right compelling and conversion elements injected into our content for better conversion, sign up or sales.
Backlinks
Backlinks are like online referal from other sites to yours.  So, when high ranking websites of relevant topic to yours backlinks to you, it would help you with your ranking.  So, the more relevant and quality backlinks you have to your website or marketing materials online, the better your ranking is and the easier you would appear on the keywords search that you are attempting to rank.
So, if you wish to DIY and build your SEO Website, you can start immediately and pump in the SEO works as indicated above.  Or if you wish to get guidance and mentorship, choose how to DIY internet marketing for your business.
Or simply connect with us for more SEO information.