I am a noob when cryptocurrencies is concerned.  There are so many currencies in the cryto world and I hear so much about how the currencies are supported by blockchains.  Very confusing for someone who is not technically inclined.
I was doing some research on the best and easiest platform to trade and keep cryptocurrencies as I realized that even banks are working towards offering cryptocurrencies trading for clients.
So, I thought, it was about time for a noob like me to discover the world of cryptos.  Noobs can learn and trade too when introduced to user friendly platform.
Thanks to this platform that makes understanding the cryptocurrencies world more simple and managable platform that allows me to trade and keep my cryptocurrencies.
It is good to start early, you never know when the currencies you keep might make you a multimillionaire.
Imagine buying Bitcoin at the low of 10,000 BTC for US$50 with near to nil demand in 2009 and $0.003 for each bitcoin in Bitcoin Market in March 2010.  And now holding one bitcoin, you can trade or sell it for about US$12,000.
The crypto currencies are pretty volatile and there is no fundamental value that you can measure against. Crypto currencies rates are based on the global demand and supply.
When doing the initial research, I found top 3 reasons why investing in crypto can help preserve the value of your investments.
Payment via crypto currencies have not expanded and the processing fee is very low or close to nil.
Crypto assets increased compared to the fiat currencies that we have today due to inflation and uncertain economic situations today.
And you can earn interest for the crypto currencies that you own in some platforms.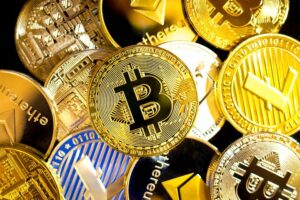 My First Crypto Currency Purchase was Zilliqa
So, instead of buying the super established and super expensive coins, I came up with the strategy of buying and keeping the cheaper and yet established crypto coins like Ripple and Zilliqa.
On 8 August 2020, at 1903 hours, I bought my Zilliqa coin at S$0.033196 while each ripple coin costs me S$0.40836 on the same date at 2207 hours. Note that these rates would move by the seconds. It can be pretty addictive at first as you would be curious on the changes to your earnings/lost changed by the seconds. I noticed my Zilliqa seems to move up faster than my Ripple.
Crypto Currencies Trading on Coinhako.
As it sounded so easy, I decided to sign up to learn more about cryptocurrencies trading on Coinhako website.
My friend was sharing on how he is using this platform that is easy to use and safe.  It attained license to trade by the government.  It is connected with the local Singapore Singpast site that allows hassle free verification of new users through Singpass sign in. 
Signing up and getting verified were easy as it is connected to the Singpass verification.  If you do not have Singpass, you would need to have your NRIC ready and proof of residence to get your verification done, in order for you to start trading.
It is clean and easy to manage, with 13 popular currencies, like Bitcoin, Bitcoin Cash, Ethereum, Ripple, Litecoin, Basic Attention Token, Binance Coin, Compound, Neo, USD Coin, Tether US Dollar, Stellar Lumens and Zilliqa.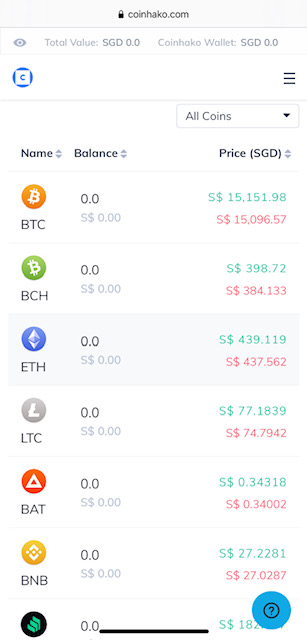 Just like forex the amount of each coin fluctuates daily. So, you can buy at low price and see your account grow.
Do not be surprise to see your dollar value changes and fluctuates just as soon as you start purchasing your selected crypto currency.
Other than the 1% of buy, sell or swap fee, you will also see the rates of the currency changes, just as you key in the amount.
The currency change is by the second, either up or down, you will see the minor changes to the rates during your purchase process.
You can transact with Singapore Dollar, Malaysian Ringgit, US Dollar, Vietnam Dong and Indonesian Rupiah.
Deposit and withdrawal via Coinhako
Deposit and Withdrawal is easily and can be safely done via local bank transfer.  Deposit and withdrawal are not real time, so give yourself ample time by transferring what you need for your trades, at least one day prior.  The deposit done will be reflected into your accunt within the same business days, reflected at 10 am and 4 pm.
Money Withdrawal
When you have sold your cryto coins and want to withdraw your money, you can transfer it into your bank account within 1 business day, with maximum withdrawal of S$2,000 with a withdrawal fee of S$2 each time.
The platform even offer incentive for you to log in daily.  You are given 10 points daily for your daily log in and the points can be accumulated to claim coins or discount off your first two trading fees.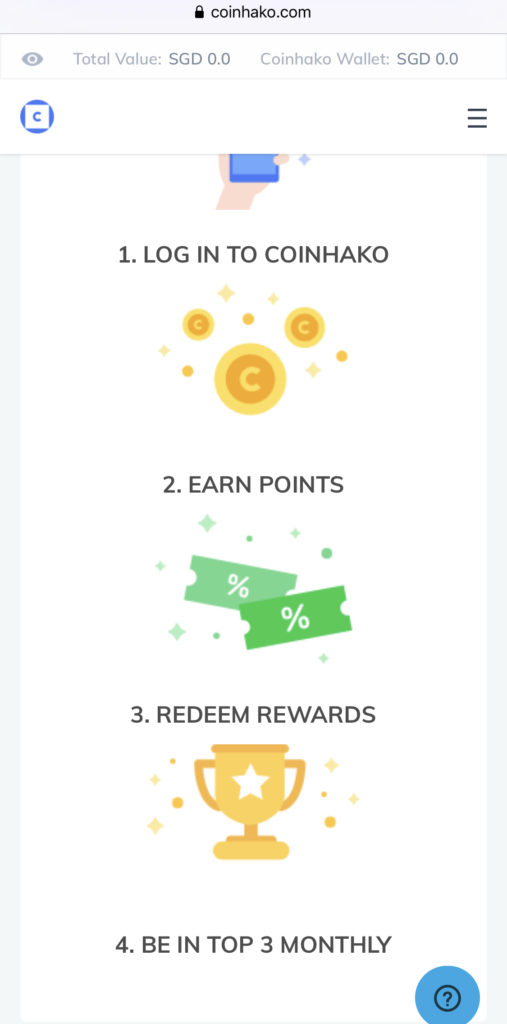 They also offer referral incentive, when you refer a friend to this friendly platform.  You are paid 20% trading fees when your friend place an order for each trade. 
Coinhako has very limited coins for trades and the difference between buying and selling is about 1-2% in pricing, on top of the 1% buying and selling fee. Coinhako does not offer the feature of depositing the coins you own to be paid in interests.
Crypto Currencies Trading on Crypto Mobile App
There is another interesting crypto mobile app approved by the Singapore government.
Crypto mobile app is another licensed crypto currencies trading platform available on mobile phone.
Cypto dot com comes with a free metal visa card and you can transfer your money into the visa account which allows you to use it for purchases and enjoy incentive of 1-5% rebate. This trading linked to visa card is consumer friendly.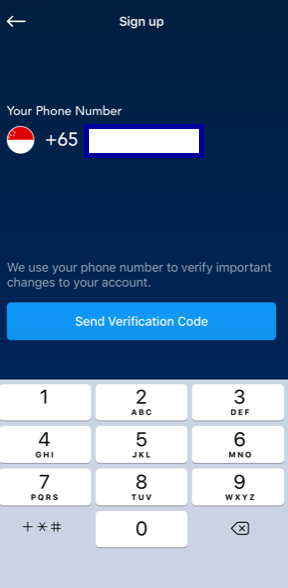 Upload the crypto dot com mobile app to start registering for your account. You can get US$50 bonus if you key in this as your referal fee : 6d25paenek.
Be prepared with your identification documents like NRIC or passport and make yourself presentable for the selfie verification for the approval of the account.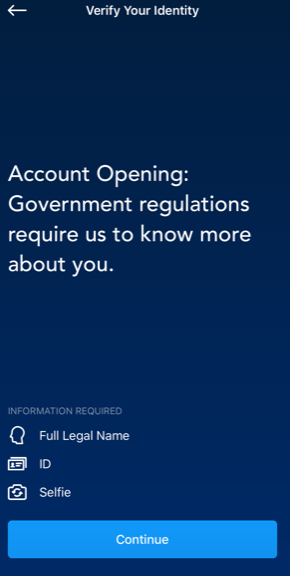 You will be asked to scan your front and back of your identification documents followed by your own selfie. So, do put on your make up if you want to before the verification:).
Once the documentation and selfie pictures are processed, it will take about 2-3 business days for approval before you can start using the account.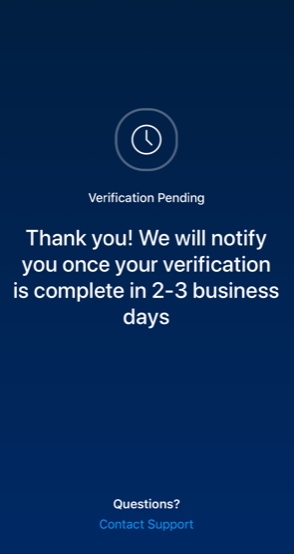 You can use your crypto metal visa card to keep, buy, earn and get rewarded with your crypto currencies. The platinum visa card can be used as a visa card for your retail purchases and you still get to enjoy 2% rebate from the purchases. Earned 4-18% interests on the crypto coins that you have.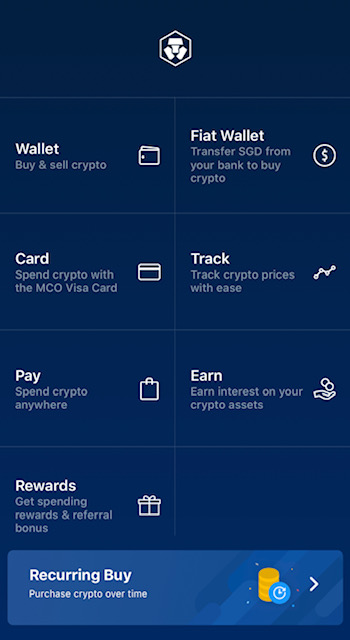 You can select any of the payment currency, US Dollar, British Pound, Euro, Singapore Dollar, Canadian Dollar, NZ Dollar, HK Dollar, New Taiwan Dollar, Norwegian Krone, Swedish Kora, Danish Krone, Swiss Franc, Polish Zloty, South African Rand, Kenyan Shilling and Russian Ruble.
Payment and withdrawal
The FIAT currency for deposit of SGD can only be done via the service provider xfers or via bank transfer can only be done via the Euro currency, Australian Dollar and British Pound.
And when you connect your crypto dot com account with Xfers to pay or deposit your SGD, you can instantly buy/sell crypto with xfers and pays only 0.4% fees when selling your crypto and no fee for buying crypto till Sept 2020.
And there is a fee for every withdrawal too.
Sign-up for Your Own Crypto Account
To kick start your account, you can first select the options or cards you want to own. Each card has its minimum purchase requirements and premium privilege. When selecting with CRO stake, you enjoy higher card cashback. WIth CRO stake requires you to sign up for affiliates service providers like spotify, netflix
The Crypto Metal Visa Card
The Midnight Blue has a 1% card cashback
The Ruby Steel which has up to 2% card cashback
The Jade Green or Royal Indigo offers up to 3% card cashback
The Icy White or Rose Gold that offers up to 4% card cashback
and The Obsidian Black which offers up to 5% card cashback.
How to Sign up for Your Crypto Metal Visa Card
Option 1 Submit your proof of residence to sign up.
Option 2 Purchase and hold 1,000 CRO (which is approximately S$223) for 6 months
Option 3 Purchase and hold 10,000 CRO (which is approximately S$2.3K) for 6 months and earn 16% interest pa.
Option 4 Purchase and hold 100,000 CRO (which is approximately S$22.3K) for 6 months and earn 16% interest pa.
Option 5 Purchase and hold 1,000,000 CRO (which is approximately S$223K) for 6 months and earn 18% interest pa.
Earnings of the interests earned will be credited to your wallet every 7 days, based on the currency of the wallet you selected when you first signed up.
It is important to know that if you are using SGD, it is important for you to obtain XFers account in order for you to sell your coins for fiat returns, otherwise your sales can only be exchanged to crypto coin currencies.
Purchase and interests earning deposit can be done without Xfers. However, if you wish to sell your coins for profit, it is best to sign up for xfers account first.
Xfers account verification is done via singpass sign up and selfie and address verification before it can be approved. You would also have to link xfers to one of your bank account for payment and withdrawal transfers transactions.
Crypto purchase can be done via credit card or debit card at 0% fee and selling of crypto can be done via xfers at 0.4%. The withdrawal from the sales must be transfered to xfers account for Singapore account and direct bank transfers for other countries.
Xfers do identity verification via Singpost, so have your access and password to Singpass ready when you sign up for xfers.
Purchase Crypto and Getting Weekly Interest.
Crypto allow you place your coins to earn interests. Not all coins are accepted in this interest churning list. The list of coins that can churn interests in this mobile app are:
Crypto Coin

Elrond
Bitcoin
Ethereum
Ripple
Tether
Bitcoin Cash
Chainlink
Litecoin
Binance Coin
Cardano
EOS
Tezos
Stellar
Cosmos
VeChain
Maker
Basic Attention Token
Algorand
Dai
Compound
Icon
KyberNetwork
Enjin Coin
Pax Gold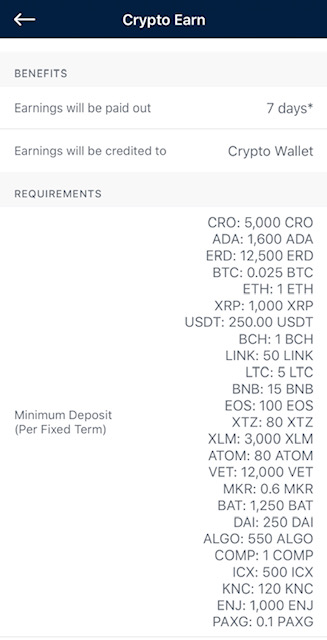 There is a minimum coin requirements for each coin. Earnings of the interest will be credited into your crypto wallet every 7 days. You can choose to deposit your coins for a flexible period or one month or 3 months'period.
Another platform for you to consider is Coinbase. In addition to trading cryptos, coinbase also offers incentives like learning and earning on the different types of coins.
Disclaimer: Please note this was updated in August 2021 and many of the above features have changed, so you may want to sign up and check on the latest terms and conditions on the site. Also, I am NO financial adviser and information you receive here is only for educational and entertainment purposes. Do your own due dillgence, meaning do your own research, noob! Thank you for reading and connect with me if you want some not so expert but lay man term advise on how to start on these crypto stuff!