Other than Bali holiday which I took with my family ten years back and day trip to Bintan and Batam, I have not been to other part of Indonesia.
I was filled with mixed feeling when I found out that I was accepted into the Internship Program from the Polytechnic.
I am a 3rd year intern and was accepted for the Internship Program in Indonesia.  I had a choice between working in Jakarta or Yogjakarta.  As I was told that Yogjakarta was a quiet, urban area, I decided to choose to work with company in Jakarta.  In fact, there are about 10+ of us that would be going to Jakarta for the 5 months or to be exact the 22 weeks internship.
I received an internship offer with a local incentive membership company in Jakarta and worked for them as their B2B Marketing Intern, receiving a monthly allowance of 3 million rupiah or the equivalent of S$300 monthly.
In addition to this incentive, I am pleased to know that the Youth Association tops up about S$8,300 to cover 22 weeks expenses in Jakarta.  This includes money for accommodation, airflight tickets to and fro Singapore and other living expenses.  In addition, we were also given a budget of S$1,500 reimbursed on paid invoices, for other extra curricular courses or networking that would complement our internship.
As I walked into the Jakarta airport, I was pleasantly greeted by the resort like sights of beautiful plants and trees behind the sealed pathways.  It was a nice and warm welcome to Indonesia.
I managed to pre-book my car ride, from traveling site.  The one hour ride from the airport to my hotel ala service apartment cost S$12.80, inclusive of toll.  I checked the grab and go jek mobile app and found similar prices, excluding the road toll. 
The driver sent me a wats aps message to inform me that he was waiting for me at the path of the car park area. 
Service Residence/ Service Apartment
We reached the Service Residence hotel/service apartment which I booked via travel site.  It cost S$31/day vs walk in booking that cost IDR45,000 or S$45.  I have booked a 9 days stay here as I search for my long term accommodation.  The booking in was easy and quick.  I was brought to the tower or next door building that looked like service apartment.  The room comes with queen size bed, a small fridge, a tv, a telephone with wifi connection and an attached bathroom.  The kitchen utilities like water, microwave oven and stove were available in the general area on the same floor.  They offer housekeeping services, which was already included in the daily fee.
In addition, I was also able to send my clothes for laundry services at 16K/kilo or S$1.60 per kilo.  I managed to send my clothes to the laundry 3x while I was there.  I extended my stay to another 8 days as I waited for my two housemates, who have yet to receive their business visa.
Business Visa for Indonesia Internship Program
We received 2 months business visa via referral or recommendation of the local company as we were not able to apply for long term working visa.  Yes, interns for Indonesian Internship Program get to return home or travel out of the country at least 3 times in order for us to stay there legally.
OVO & GO Pay Mobile APP
OVO and GoPay were essential mobile app for people staying in Indonesia.  This is because they are widely accepted at retail, restaurants, food and transportations.  OVO is a payment via Grab mobile app while Go Pay is the mobile app for Go Jek.  Other competitions are DANA & others.
Local Mobile Number and Service
OVO payment can only be activated for local mobile number.  This local SIM Card can be easily purchased at any mobile or mobile shop service providers at any retail outlets. 
I bought the XL-Axiata 1 year mobile package that costs about IDR200K or S$20 for a year plan with 10GB data.  We are to topped up IDR15K for every quarter to extend the validity of the card.  I topped up IDR5K for 1.5month validity of calls for calls made to other service provider.
The money in your OVO can be activated by topping up the actual value at certain top up kiosks in malls, Indo mart or your local Grab Rider or Driver. 
OVO & Grab Drivers
The driver gets 5 points for every IDR50K top up or 10 points for every IDR100K top up.  These points are added onto their points accumulated for each cab ride for their passengers.  Each ride gives them 9 points.  This is accumulative for the day and when they achieve 215 points and above in a day, the cab driver receives IDR400K incentive or SGD$40/day.  The top of gives the cab driver the opportunities to top up their points faster for the day.  So, if you want to throw some points to the nice driver, do the top up with him/her.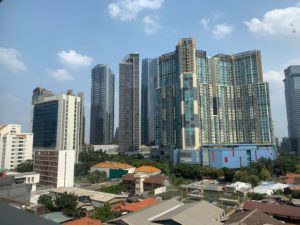 In fact, some days, the passenger may also receive incentive of 30% extra for each top up.
The Grab platform is pretty intensive and easy to use.  In fact, communication with drivers have the translation features for those who do not speak the local language.
OVO Payment is widely accepted in all parts of Jakarta, and merchants accepting the OVO Payment offers 20-50% cash back with a maximum of IDR12,500/ transaction.  Go Pay is also available with 20-50% cash back with maximum of IDR30,000/ transaction.
Local Transportation
Though we heard of Jakarta traffic and local drivers fussed over them, I was in luck when travelling in Jakarta is involved.  It is always very easy and fast to get a local Grab and GoJek Transportation.  Both companies offers transportation by car and bike.
Initially I took car travelling within Jakarta.  It costs me about IDR15K and 10 minutes for car ride from my service apartment to my work place in Rasunah area.  On the second week onwards, I travelled by bike more often.  And each trip from my service apartment to my work place was cut down by 30%, cost me only IDR10K/trip.
Users like me enjoy 1% cash back for every payment of transportation fees.
The local app also offers transportation discounted package for cars and bikes.  One can enjoy further discount with these packages.  If you need to travel to/from work daily, my advice is to take up the bigger package as one can only sign up for the package every fortnight.
Local Food Delivery
Grab food offers attractive incentives for those who grab food delivery.  One can enjoy a substantial 30-50% discounted price for some food orders, even after paying the delivery service that range from IDR3K to IDR12K.
At times, you may save a little more, just by grabbing food back instead of going out.  This is good incentive when I feel too lazy or tired to eat out.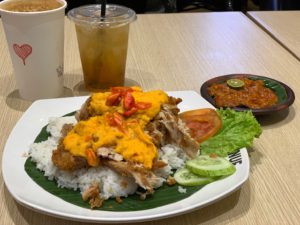 There are many food varieties in Jakarta.  Local, American, Italian, Japanese, Singaporean, Vietnamese and Thai food are largely available.
After a few days of eating the local favourites like ayam penyet, bebek grepes, satay, sambal kangkong and martabak manis, I tend to crave for soupy and less fried food.  The craving died down after 2 weeks.  Then again, I shouldn't complain as I get to return home in another 1 and a half month more.
Local Accommodation
I have an options to rent a room or a whole unit for my stay in Jakarta.  In fact, there are friends who are able to get a room for only IDR1.3M or S$130/month to IDR6M or S$600/month.
As I am working in Rasunah area and my friends are also working close to my work place, we decided to search for a whole apartment unit to stay.
I went house hunting in Rasunah area as my place is in the central of all our work places.  I found the agents contact online via the sewa-apartment.net website.  I made arrangements to see a few places with a few agents in the Rasunah area as some of the agents only have 1-2 apartments to rent out.  The agents were very professional and on time!
2 bedrooms apartment in Rasunah area costs IDR8-IDR10M/month while 3 bedrooms apartment costs IDR10-IDR18M/month.  I saw apartments in Tower 1/16/17/Aston/Empyreal.
As few of my friends are staying in Casa Grande, I checked out a few apartments there too.  3 bedrooms usually go for IDR18-24M/month.  Casa Grande is the building next to the Kota Kasablanca mall and has a side exit direct to the mall for its tenants.  Casa Grande has a nice hotel like lobby and gym facilities.
I was blessed as I was able to get a 3 bedroom apartment for IDR15M. A one month deposit was made to lock down the unit and full payment of the 5 months stay is made on the day the key is collected for the move in.  The rental is only inclusive of the maintenance fee, hence utilities like electricity, water, tv cable and wifi are in addition.  In addition to that, the contract of the lease also stipulated that a quarterly aircon maintenance must be carried out by the lease.  It costs about IDR38K per maintenance for the 3 bedroom apartment.
Airflight
Airflight to Jakarta costs about S$60 t0 S$100 one way for budget airlines like AirAsia, Lion Air, Jetstar & Flyscoot.  I can also find two way flight for an average of S$150 for non-peak period.
Airflight with premium airlines like Singapore Airlines and Garuda Indonesia costs about S$200 to S$500 one way or $350 to $1,200 for two ways flight.
You may check this travel site to check the best airflight fare for your travels.