Crypto investing is still in its cryptic stage at this moment. It is more shun off than shares investing as not many people know how to trade or predict the movements of crypto currencies.
Moreover, there has been some bad press about crypto hacking and how people lost all their investments in crypto in the early years. In fact of course there was the plummeting of the crypto assets in early 2018.
On 3 January 2009, Satoshi Nakamoto mine the genesis block of bitcoin. Bitcoin is the first blockchain-based cryptocurrency in the world which was launched in 2009. The first real price increase occurred in July 2010 when the valuation of a bitcoin went from around $0.0008 to $0.08 for a single coin. The first real-world transaction happened in 2010 when a bitcoin miner bought two pizzas from a Papa John's in Florida for 10,000 bitcoins.
The currency is based upon a blockchain that contains a public ledger of all the transactions in the bitcoin network. Those participating in the currency can mine for bitcoins using computer power. The currency had a small initial interest among cryptographers and those seeking to engage in transactions that could not be easily traced.
Today, Bitcoin can be purchased and traded on a number of non-centralized independent exchanges, such as Crypto, Coinhako, Coinbase, Binance and many more crypto currencies exchanges.
Now, is this a good time to invest in crypto currencies. Though it is still unknown ground for the public, there has been many people who are learning the ins and outs of crypto investing and trading and many have retired with their winfalls in crypto assets.
To be fair, not everyone hit it rich owning crypto currencies. The crypto investments ride can be pretty heart pumping and not for the weak heart. Those who bought in early and sold off some of their investments in December 2017 would have hit the jackpot. And re-collecting more cryptos in the Dec 2018 would have also seen their investments increased many folds again.
Now, with so many countries regulating crypto investing and the better security of crypto chains, many are jumping in to the wagon again.
It is advisable for you to sign up for an account with xfers to start buying and selling your crypto currencies.
However, if you are still waiting for your xfers account to be verified and wish to start buying and selling crypto currencies, you can start of with Coinhako.
Crypto dot com allows you to buy crypto currencies but you are not able to sell them and get fiat currencies if you do not have a xfers account in Singapore.
For Binance Singapore, you would require a Xfers account in order for you to buy and sell your crypto here.
The Pros & Cons of Each Platforms
Here, let us discover the pros and cons of each of the platforms, ranging from the availability of currencies, pricing, interest churning options, purchases and withdrawals.
Coinhako
Coinhako is regulated by Monetary Authority of Singapore. It has only 12 crypto currencies. They are Bitcoin(BTC), Bitcoin Cash(BCH) , Binance Coin (BNB), Basic Attention Token (BAT), Compound(COMP), ChainLink (LINK), Ethereum (ETH) , Litecoin (LTC), Neo, Ripple(XRP) , Stellar Lumens (XLM) and Zilliqa (ZIL).
As of 6 Jan 2021, Coinhako has included Band, CRV (Curve), Dai, Dot (Polkadot), Fil (Filecoin), GRT (Graph), MKR (Maker) and UNI (Uniswap) into its list.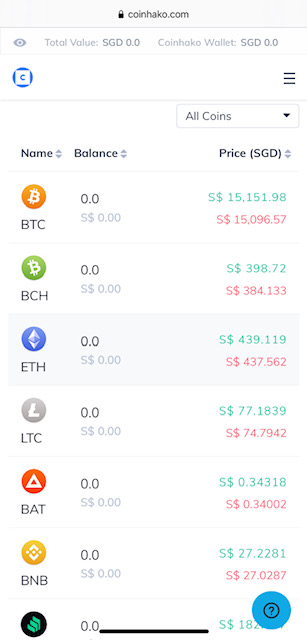 The price difference on the buying and selling is about 1% difference. And in addition, there is a fee of 1% for buying, selling and swapping.
Money must be deposited into Coinhako in order to buy the coins. The money can be transfered from your bank account to your Coinhako account. The amount will be reflected on the same business day at 10am and 4pm respectively.
You can withdraw the sales or remaining fiat into your bank with S$2 withdrawal fee each time from Coinhako.
Crypto Mobile App Crypto.com
Crypto mobile app is easy to use, but has been facing slow response rate due to overwhelming new account opening. Crypto app is not regulated by the Monetary Authority of Singapore. It has many more crypto currencies in play.
The price difference on the buying price is also about 1% but is done more subtly as it is plotted on chart and another price is recorded on actual price. The price change differs by the ten seconds block. Which means when you click buy, your price will be locked down for you for ten seconds prior to change.
There is a fee of 3.5% when purchasing with credit card and selling fees on the platform is 0.4%.
There are some coins or currencies that you can only purchase with credit card or crypto wallet. Hence, to avoid paying the credit card fee, one can purchase coins like Bitcoin, Ethereum, Binance or Cryto and use these coin to purchase other coins.
Withdrawal and deposit of fiat must be made via xfers. So, you have to sign up for an account with xfers first for purchases and sales via fiat. You can also purchase the crypto currencies with your visa card prior to xfers approval. Though, it is advisable to get an xfers account prior. That will make selling your coins easy when the prices go up.
Currently, as of 7 Mar 2021, there is a limit of S$5,000 in your fiat wallet for digital wallet or a maximum of S$30,000 for spending. The S$30,000 limit is purely on card spending or purchases and does not affect, transfering of money on coins/cryptos sold.
So, if you plan to spend or purchase more than S$30,000 you can use either credit card or wise account. Transfer wise account can be used to transfer fund to another account too.
The advantage of crypto.com is it has interests earning options for some of the coins purchased. The deposit for interests varies in interest based on flexible, one month and three months deposit. It varies from 0.5% to 18%. Your interests will be credited into your crypto wallet, and the interests returns and paid in the same crypto currencies pledged. The minimum amount of crypto deposit for interest varies from coins.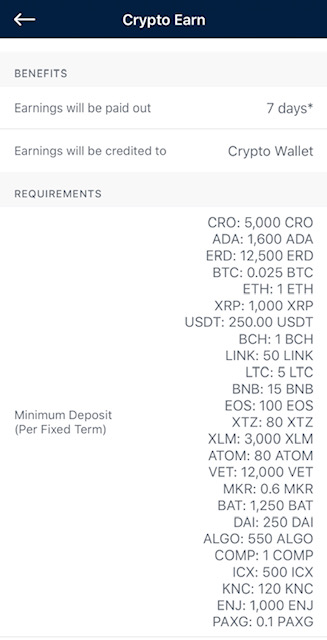 Do note that not all coins or cryptos that you purchase can be sold for fiat. So, do take note.
Only coins like Crypto coins, Ethereum, Bitcoin, Ripple, Litecoin, Bitcoin Cash, Binance Coin, Ethereum Classic and XSGD can be purchased and sold with FIAT via XFErs.
If you own other than the coins indicated above, you can only sell them in exchange for above coins.
If you plan to purchase your coins using Xfers or cash and save 3.5% on the credit card fees, do apply for Xfers account prior to all your purchases.
Binance Singapore
Binance Singapore has only 8 crypto currencies. They are Bitcoin(BTC), Bitcoin Cash(BCH) , Binance Coin (BNB), ChainLink (LINK), Ethereum (ETH) , Litecoin (LTC), Neo, Ripple(XRP).
In January 2020, Singapore has regulated the Payment Services Act (PSA) regulations and exempted a number of major payment services from holding a financial license under the PSA for about 6 months. Among the exempted companies are Coinbase and Binance.
In order to buy and sell coins in Binance, you have to first open and link your xfers account. So, if you are based in Singapore and is thinking of investing in cryptos, it is advisable for you to first open an xfers account.
The withdrawal from Binance to xfers is free. While all its buying and selling fees in Binance is 0.6%.
Xfers Deposit and Withdrawal
Xfers account allows you to own Digital and General Wallet. You can link and deposit or withdraw your money to your bank account via the Fast Option for free. However, do take note that you must update any deposits into xfers account prior or a 1% fees would be imposed on all deposits into xfers wallet.
Opening of Coinhako account can be made via manual verification or via Singpass log-in validation, it usually takes about 1-2 business days for processing.
Opening of Crypto account can be made with manual verification of your nric and selfie, and proof of address verification. It usually takes about 2-3 business days for processing but due to its current high volume there has been a delayed in the processing and can take more than one week or so.
Opening of Binance account can be made via manual verification or via Singpass log-in validation and is pretty immediate.
Opening of Xfers account usually take about 1 business day with Singpass validation and selfie with NRIC and xfers date of verification.